Cancer Fighters to Coffee Roasters: Helping Cancer Fighters & Survivors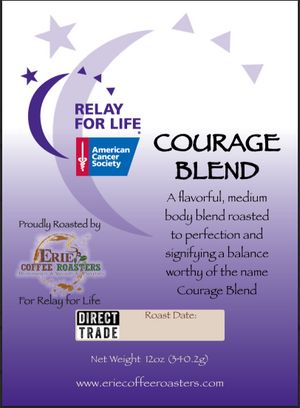 Everyone starts their career path somewhere.  Ours started out as Biologists.  Fresh out of school with our Bachelor's degrees from Ft Lewis College in beautiful Durango, Colorado, Nate and I made the bold move to Houston, TX in 2001 to work in research at the top-rated Baylor College of Medicine.  After 16 months that included an incredible amount of scientific research in cell biology & molecular biology to support studies in genetics, inflammation, and cancer, we headed West to the Silicon Valley of California.  Palo Alto, to be specific.  Nate worked at an incredible company called CV Therapeutics in a drug discovery group aimed at combatting cardiovascular disease.  I spent 4 1/2 years with a brilliant team of virologists at Roche in HIV Research.  From there we moved back to our beloved Colorado to be closer to our family and to start a family of our own.  Amgen became my workplace and Nate's later down the road.  Over my 8 great years at Amgen, opportunities opened up for me to move from the lab to the Business Operations group leading a global team of wonderful individuals.  
During this time at Amgen, Nate and I decided to get pregnant.  After just our first month "trying", we went to my doctor to discuss what we thought may have been an ectopic pregnancy.  Two weeks later I went in to surgery to remove a large cyst but what ended up being an incredibly rare case of cancer: struma ovarii.  This understandably sent shock waves through our lives, our family's lives, and our friends.  With only 150 cases ever reported of this extremely rare cancer, there isn't much information out there on prognosis, and most of what is captured in the literature isn't very promising. However, this September 18th will be the 8-year anniversary of my surgery, and I continue to be cancer free!
So, while this is interesting, why should it be important to you?  Now?  Every year the American Cancer Society holds their Relay for Life events all over the world.  It is their biggest fundraising event to promote cancer awareness and to raise money to fund programs to help those folks and their families deal with cancer and all that goes with it.  Nate and I decided we could help Relay with coffee.  Their very own coffee blend to be exact!  For a limited time, you can purchase a bag of our Courage Blend coffee and $5 of every bag will go to Relay for Life!  In our hometown of Erie, CO, the Relay for Life event will be held July 30-July31st.  It's an overnight event at which we will also provide our brewed coffee to help everyone stay awake!
Please donate to this wonderful cause today.  You can make a monetary donation directly to Relay at www.relayforlife.com, you can buy Courage Blend at our shop, at the Erie Farmer's Market, and at our website: https://www.eriecoffeeroasters.com/products/relay-for-life-courage-blend.  We are also working with some of our partners to carry our Relay for Life Blend--stay tuned for more information.
As always, thank you for your support of ECR, and now Relay for Life too!  Cheers!